2nd place at the poster award of the 21st Austrian Climate Day
FARECarbon was presented by Veronika Kulmer on behalf of the entire project team at the ACRP poster session, which serves to ensure the quality of the Austrian Climate Research Programme for 2021. The poster convinced the jury in terms of visual and content presentation, scientific quality and innovation as well as social relevance. We are happy about the achieved second place!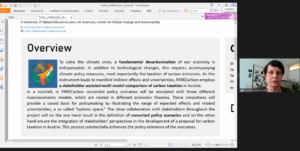 The poster is available on the Climate Day website https://ccca.ac.at/dialogformate/oesterreichischer-klimatag/klimatag-2020-2021/programm/acrp-poster-session-1 and is also available for download below.
Stakeholder Workshops: Development of carbon tax scenarios and revenue recycling schemes
On March 4 and March 16, 2021, stakeholder workshops were held on the scenarios for the development of a carbon tax in Austria and revenue recycling measures to be simulated in FARECarbon. After an introduction by the project team, the various aspects related to carbon taxation and revenue recycling were discussed with the workshop participants from administration, research, NGOs and interest groups. The lively discussions and the valuable comments by the participants will allow to integrate additional points in the scenario development for FARECarbon.